Naxos, the largest Cycladic Island, used to be the center of the Cycladic civilization and a place of utmost importance during Venetian Era. Towers, castles, ancient temples, monasteries, churches, traditional villages, beautiful beaches and majestic mountains form the backdrop of this special island.
Chora (Naxos' Town) is both the capital and the major harbor of the island. It is set up around and inside the castle, which is built on a hill, on the ruins of an ancient citadel. White houses with colorful shutters, whitewashed flowery courtyards, alleys, arches and old mansions create a dreamy scene!
In the modern part of the town, you will find meticulous restaurants and taverns with traditional cuisine, atmospheric cafés/bars and shops. Beyond the tourist character, Naxos' Chora has precious historical and archaeological monuments. One of the most important monuments and Naxos' landmark is Portara. A huge marble gate situated on the Palaces' islet, in front of the port. Portara faces Delos Island. It is thought to be the entrance of Apollo's temple which was never completed. The Palaces' islet is an ideal spot to enjoy the sunset.
In Chora, you will find numerous scattered churches of which the Orthodox Cathedral stands out. For its construction materials from old temples and ancient buildings were used. The granite pillars of the temple are said to come from Delos' ancient Island ruins. In front of the Cathedral, there is the Epitopio Museum (On the Spot Museum), in which findings are exposed exactly where they were discovered.
The old town of Naxos is one of the most important castles that exist in Greece. Entering from the castle's gates, you will find yourself in a place where time seems to have stopped! Narrow streets, flowered patios and houses with coats of arms on the lintels compose a scene that seems to have sprung from a medieval film! Major attractions of this castle town are the Crispi-Glezos' Tower, the Catholic Cathedral, Ursulines' School, Kazatza's Sistine and the Commercial School (where today the Archaeological Museum stands).
If you really wish to know Naxos, you should explore its magnificent hinterland and walk at the picturesque mountain villages. In the heart of the mountainous areas, there is the picturesque Apiranthos (Aperathou) village. The "marble village", as it is called, still maintains its traditional "character", as well as the local dialect which resembles the Cretan one. Narrow streets, often covered with mosaic marble arches, towers which are exquisite specimens of the Venetian military architecture, two-storeyed stone houses with atypical architectural details, and small, picturesque squares create a unique residential complex of exquisite beauty! Important attractions of the village are Panagia Aperathitissa and Zevgolis' Tower. It is worth visiting the Archaeological, Geological, Folklore and Natural History museum of the village, and enjoy your coffee at one of the traditional cafés.
At the foot of Zas Mount, lies another beautiful village; Filoti. Here you can visit Panagia Filotissa Church and the Barozzi's Tower.
During your stay in Naxos, visit the emery mines with its cableway transport, which constitutes a monument of the island's modern history.
Conquerors, pirates, princes and ancient gods have left their indelible marks on Naxos, which harmoniously combines its tradition and important historical heritage with its modern cosmopolitan character, constantly surprising its visitors!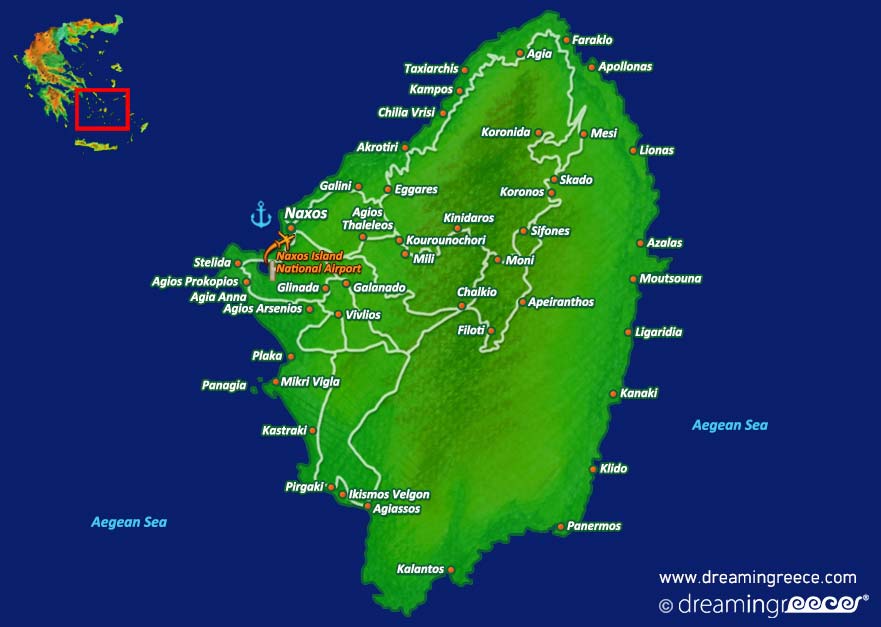 Beaches
Naxos has stunning sandy beaches with crystal clear waters. On Chora's north side, near the harbor, there is the small bay of Grotta, with pebbles and sand. Within walking distance from the town, you can find the organized beach of Agios Georgios, with fine sand and shallow waters; ideal for families with children. There you can also find water sports facilities.
Heading south, you'll find Agios Prokopios beach; one of the most popular beaches of the island. It is organized, sandy and has crystal clear waters. In Agios Prokopios there is a salt lake, the Red Lake, which is frequently visited by herons; island's landmark. Next to Agios Prokopios beach is Agia Anna. It is organized as well, while through the sand cedar trees spring out, providing this way natural shade. From Agia Anna begins the road that leads to Plaka Beach, ideal for rest, relaxation, and water sports. Heading south, you'll find Mikri Vigla, one of the most beautiful beaches of the island, which is separated by a hill into two parts, Parthenos (Virgin) and Limanaki (Harbor). Limanaki has crystal clear waters, as well as umbrellas and sunbeds are provided. Parthenos is windsurfers' favorite beach due to the north winds that blow in this area. Just after Mikri Vigla, you will find a small cove, Kastraki, with fine sand, calm waters, parasols and sun loungers. At Aliko peninsula, you will find small "exotic" coves surrounded by cedar thickets, ideal for isolation lovers. Pirgaki is ideal for rest, relaxation and romantic sunsets overlooking Folegandros and Ios Islands. One of the most pristine beaches on the island is Agiassos, with fine sand and crystal clear waters, always protected from the strong north winds.
Another ideal beach for those seeking peace, is Panermo or Panormos beach, located in a bay, on the southeastern coast of Naxos. It has beautiful beaches and beautiful waters. During summer months, you will find a small canteen here. On the southeast side of the island lies the paradise beach of Psili Ammos with fine sand and crystal clear, shallow waters, ideal for the more lonely travelers.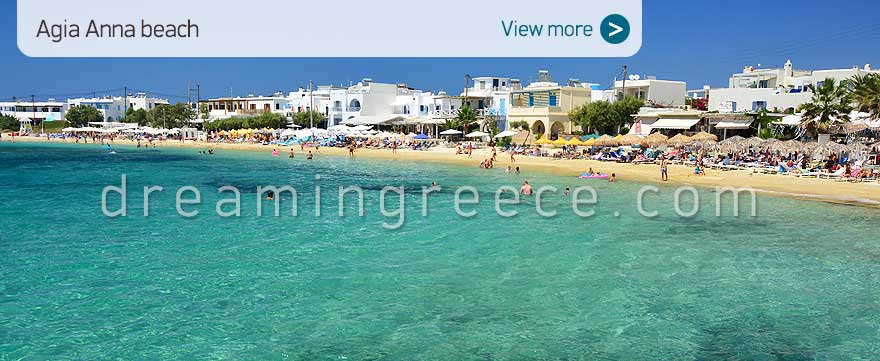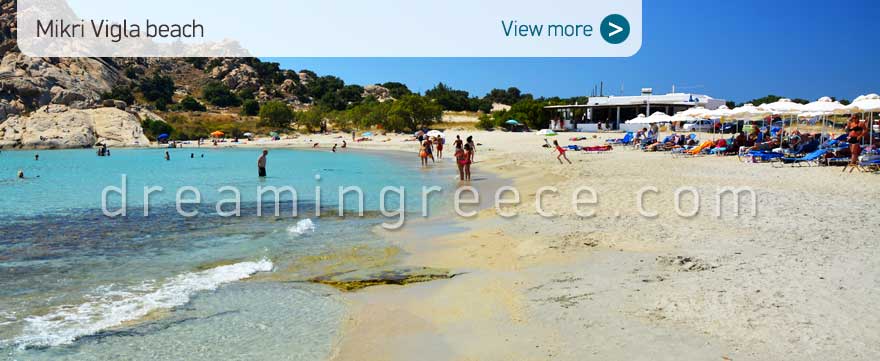 Worth...
- The archaeological monument of Portara
- The old town of Naxos
- Bazeos' Tower
- Belonias' Tower
- Heimmarros' Tower
- Halki
- Engares
- Apiranthos village
- Iria's archaeological site
- Demeter and Apollo's Sanctuary
- Agios Mamas' church
- Kouros in Apollo village
- Kouros in Flerio village
- The ancient Aqueduct
- Za's Cave 
​
- At Agios Prokopios beach
- At Agia Anna beach
- At Plaka beach
- At Mikri Vigla beach
- At Aliko beach
- At Psili Ammos beach (when it doesn't have north wind)
- Local products such as delicious Naxos' potatoes, Naxos' gruyere cheese, Touloumotyri, Kefalotyri, Ladotyri, Arseniko cheese, Anthotyro (Cottage cheese) and Xinomyzithra (Sour Cream) cheese.
- Thyme Honey
- Patouda (at Easter)
- Cephalopodia (Apeiranthos' local tripe soup)
- Kalogeros (local dish with eggplants)
- Citrus Spoon Sweets and Liqueurs
Useful Information
Travelling by plane
Naxos can be reached by air from Athens International Airport - Eleftherios Venizelos with a direct flight.
For more information click here.
Travelling by boat
You can reach Naxos by boat from the ports of Piraeus, Rafina and Heraklion with the ships of Blue Star Ferries, Hellenic Seaways and SeaJet.
For more information on the ferry routes to Naxosi visit the web sites of the companies:
http://www.bluestarferries.gr/
http://www.hellenicseaways.gr/
Connection with other islands
Naxos is connected by boat with: Syros, Tinos, Paros, Ios, Santorini, Mykonos, Milos, Amorgos, Folegandros, Schinousa, Koufonisia, Folegandros, Donousa, Astypalea and Heraklion Crete.
Transfer within the Island
For your transportation on the island you can use the Intercity Buses (KTEL Bus of Naxos) as well as taxies.
During your stay in Naxos, you can be served for health issues:
General Hospital of Naxos which is located at the mainroad of Chora, Tel: (+30) 22853 60500
Regional Clinic of Apiranthos, Tel: (+30) 22850 61206
Regional Clinic of Vivlos, Tel: -
Regional Clinic of Koronida, Tel: (+30) 22850 52213
Regional Clinic of Koronos, Tel: (+30) 22850 51280
Regional Clinic of Melanon, Tel: (+30) 22850 62372
Regional Clinic of Filoti, Tel: (+30) 22850 31404
Regional Clinic of Chalkeio, Tel: (+30) 22850 31206
Naxos Port Authority: (+30) 22850 22300
Naxos Airport: (+30) 22850 23292 
Police Station of Chora: (+30) 22850 23280, 22100
Police Station of Filoti: (+30) 22850 31224
Fire Department of Naxos: (+30) 22850 32199
General Hospital of Naxos: (+30) 22853 60500
Regional Clinic of Apiranthos: (+30) 22850 61206
Regional Clinic of Vivlos: -
Regional Clinic of Koronida: (+30) 22850 52213
Regional Clinic of Koronos: (+30) 22850 51280
Regional Clinic of Melanon: (+30) 22850 62372
Regional Clinic of Filoti: (+30) 22850 31404
Regional Clinic of Chalkeio: (+30) 22850 31206
Intercity Bus of Naxos: (+30) 22850 22291
TAXI: (+30) 22850 22444
Plan and book your perfect trip