Zagorohoria, a network of 46 charming villages of Ioannina Prefecture, are scattered over the mountains, in the "heart" of Epirus. Traditional stone houses, stone bridges, gorges, lush forests, crystal clear rivers and alpine lakes compose this heavenly scenery!
Zagori is divided into three sections: West, East and Central.
West Zagori includes some of the most popular villages in the area, such as Mikro (Small) and Megalo (Big) Papigo and Aristi. Picturesque stone houses covered with the typical, gray, Epirus' stone; stone fountains, cobblestone streets, and the thriving nature, make this backdrop absolutely unique! A visit to Ovires Rogovou, physical fonts/natural pools, located between Mikro (Small) and Megalo (Big) Papigo is highly recommended. The landscape is without equal! During summer months, Ovires Rogovou offers a great "alternative" choice for diving or swimming in one of these pools (some, due to their size, are "individually" used!). Those who enjoy tours can visit the legendary Drakolimni, which is accessible after approximately four hours of hiking from Mikro (Small) Papigo. Here, lives the Alpine Triton; a rare amphibian species, which resembles a small dragon. In summer, the most adventurous of you, can dive into Drakolimni and enjoy the sun at a 2,000 meters altitude! The experience is unique!
East Zagori is less developed, in a touristic way, than West and Central Zagori, but it has excellent aesthetic villages. It is worth visiting its five tiny villages set on the Varda's river banks. The most renowned is Greveniti. Four kilometers away from Greveniti through a lush forest, lays the amazing Zorika Lake, whose waters are filled with water lilies. Visit it, especially in the late spring, when water lilies bloom! The image is charming!
Central Zagori also includes wonderful villages, like Vitsa, Monodendri, Kipi and Dilofo. Lose yourself in the streets of Vitsa's village and browse to its two, of authentic Zagorian architecture, districts. Do not miss visiting Monodendri, a more touristic place, known for its easy access to Vikos' Gorge and Agia Paraskevi's Monastery, which almost "floats" over the canyon. You should also explore the majestic Stone Forest. The tall stone terraces, lying among the trees, create a "lunar" landscape of unique beauty! The picturesque Kipi village "embraces" a green valley, crossed by two small rivers. Those rivers' banks are "decorated" with ornate, arched, stone bridges. The beautiful Dilofo village is fairly regarded as one of the most picturesque villages of Central Zagori. Walk through its cobbled streets with the imposing mansions and stay for a moment in this village's square, which seems to have sprung from a painting!
During your stay in Zagorohoria, do not miss visiting Vikos' Gorge, which crosses West and Central Zagori. It is a paradise! It is also worth spending some time in the exploration of Voidomatis River, renowned for its crystal clear, cold waters. On its banks, there are paths which once followed offer unforgettable tours in places full of trees, adorned with traditional stone bridges. The most risky of you, can dive into the river's transparent waters, provided that you withstand the low temperatures.
Zagorohoria, with their unique architecture and natural beauty, captivate the senses and charm even the most demanding visitor!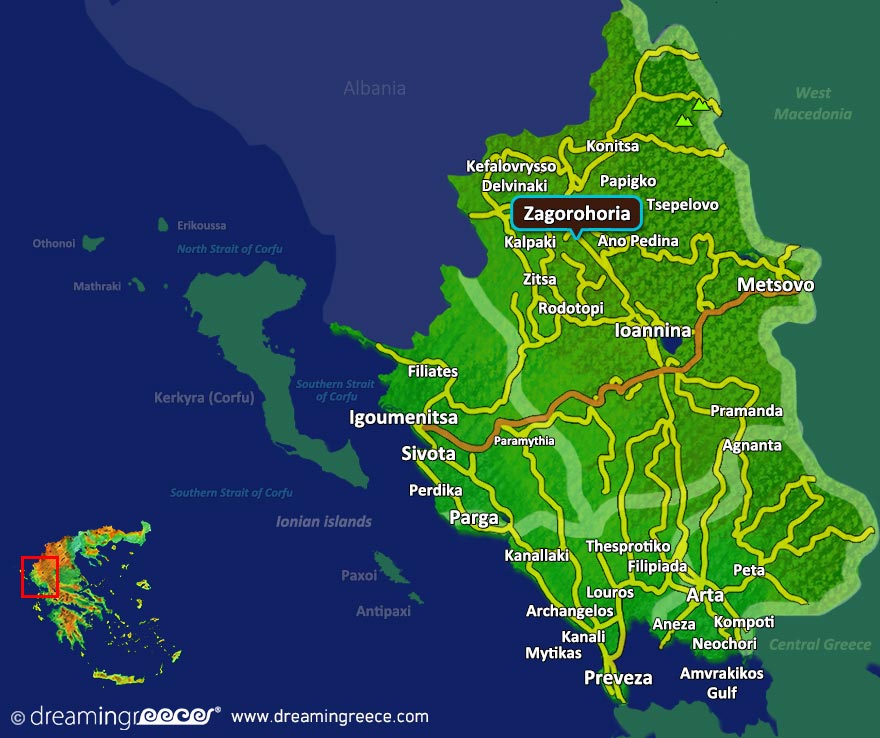 Worth...
- The legendary Drakolimni
- Ovires Rogovou
- Vikos' Gorge
- Rizareiou Church School Foundation in Monodenri
- Tolis Agapios Folklore Museum in Kipi
- Paschaleio School in Kapesovo
- "Lazaridis" Flora and Fauna Museum in Koukouli
- Ioannina Lake
- Pies like alevropita
- Spoon sweets and jams
- Syrupy sweet
- Local meats
- Epirus' wines
Useful Information
From Athens
Travelling by car
To reach the villages of Zagori from Athens, you can drive via the National Highway heading to Patras (445 km distance – 6 hours and 30 minutes ride). When you reach the town of Rio, cross the bridge to Antirio and then follow the signs to Ioannina. Then, head to Konitsa and on the 19th km of the National Highway from Ioannina to Konitsa you will see the signs to Zagori villages.
From Thessaloniki
Travelling by car
To reach the villages of Zagori from Thessaloniki, drive via Egnatia Highway heading to Ioannina (300 km distance – 3 hours ride). Then, take the National Highway to Konitsa and on the 19th km you will see the signs to Zagori villages.
During your stay in Zagorochoria, you can be served for health issues:
General Hospital of Ioannina which is located at Stavros Niarxhos Avenue, in Ioannina, Tel: (+30) 26510 99111, 99504-5, 33461
Hospital of Ioannina (Hatzikosta) which is located at Makrygiannis Avenue, in Ioannina, Tel: (+30) 26510 80111, 80465
Clinic of Aristi: (+30) 26530 67477
Clinic of Asprageloi: (+30) 26530 68212
Clinic of Greveniti: (+30) 26530 24281
Clinic of Tsepelovo: (+30) 26530 77793
Police of Aristi: (+30) 26530 41294
Police of Kipi: (+30) 26530 71606
Police of Megalo Papigo: (+30) 26530 25673
Police of Tsepelovo: (+30) 26530 81201
Police Station of Ioannina: (+30) 26510 26290
Fire department of Ioannina: (+30) 26513 70500
General Hospital of Ioannina: (+30) 26510 99111, 99504-5, 33461
Hospital of Ioannina (Hatzikosta): (+30) 26510 80111, 80465
Clinic of Aristi: (+30) 26530 67477
Clinic of Asprageloi: (+30) 26530 68212
Clinic of Greveniti: (+30) 26530 24281
Clinic of Tsepelovo: (+30) 26530 77793
Intercity Bus Station of Ioannina: (+30) 26510 27442, 26286, 25014
Radio Taxi: (+30) 26510 46777-8-9
Plan and book your perfect trip