Meet the exotic Small Cyclades islands
The exotic Small Cyclades are located in the East of the Cyclades in Greece and consist of a small island complex. The Upper (Pano) and Lower (Kato) Koufonisi, Donousa, Schinoussa, Iraklia and Keros, which is the only islet of 5 that is not inhabited. They offer tranquil and relaxing holidays, they have sandy beaches with crystal clear and turquoise waters and are ideal destinations for families and couples. Let's see more details about these islets ...
1. Koufonisia islands
The "exotic" Koufonisia consist of two islands, Pano and Kato Koufonisi (Upper and Lower Koufonisi) and belong to the complex of Small Cyclades and are rightly characterized by many as "Maldives of the Aegean". The once isolated and almost unknown "brother-islands" have now become a popular summer resort, synonymous with carefree and relaxed holidays!
In Koufonisia, whitewashed houses with blue shutters, whitewashed streets and beaches with turquoise waters create a dreamy scenery, reminiscent of the 60s!
2. Donousa island
At the most distant point of the small Cyclades cluster, there is the windswept island of Donousa. The white houses, the imposing cliffs, the stone walls, the cedars, the white sandy beaches, the deep blue sea color; and all that, under the light of the Cycladic sun, compose a place which knows how to seduce the visitor...
Both capital and port of Donousa is Stavrós (Cross), or alternatively called "Campos", which unfolds in the southwestern part of the island. The image of the traditional Cycladic settlement, embracing the gulf, seems to have sprung from a painting! 
3. Schinoussa island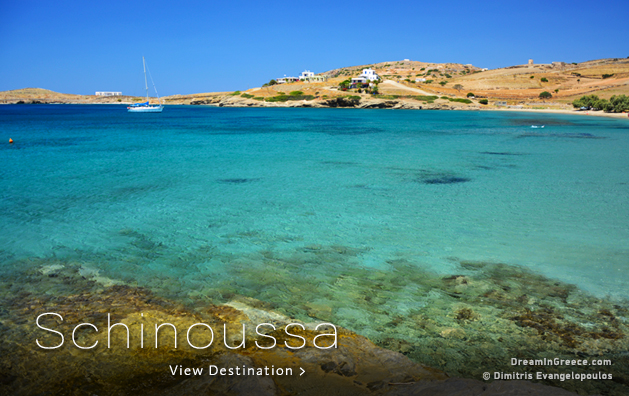 In the charming small Cyclades cluster, a little Greek paradise is perched nonchalantly; the dreamy island of Schinoussa!
The capital of this tiny island is the beautiful, like a cart postal image, Chóra or Panagià. The whitewashed houses which seem to have clung to the inland's hillside, the picturesque streets and the magnificent view of the deep blue Aegean Sea create a magical setting, which emits peace and tranquility!
4. Iraklia island
In the westernmost part of the Small Cyclades cluster, an island, different from all the other ones, dominates; the untouched island of Iraklia. In this quiet, tiny island time seems to have stopped... There, you will not find banks (only ATMs), nor petrol stations. What is certain, however, is that you will leave behind the stress and the hectic pace of everyday life by relaxing in the peacefulness of the place!
Capital of this alternative island is Chora or Panagia, which unfolds in the hinterland, at the foot of Mount Papas. The simple and unpretentious beauty, combined with the charm of the Cycladic architecture, characterize this totally lovable place!